St. Claire Regional Welcomes New Hospitalist Shea Poynter Lambirth, MD
Hospital news
|
Thursday, September 7, 2017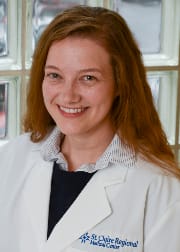 St. Claire Regional is proud to announce the addition of new hospitalist Shea Poynter Lambirth MD, internal medicine physician. As a hospitalist, Lambirth is entirely focused on the care of our patients while they are hospitalized.
Lambirth received her undergraduate degree from University of Kentucky and her medical degree from the University of Kentucky College of Medicine. She then completed her residency at the University of Vermont Medical Center internal medicine residency.
While Lambirth was a medical student in the Rural Physician Leadership Program she fell in love with the area. "I ultimately came to St. Claire Regional to teach. We've all had teachers that have impacted us," said Lambirth. "We carry those formative experiences with us and they continue to impact the care we provide to our patients. I had that here at SCR when I trained as a medical student and I came back in hopes of being one of those teachers."
When Lambirth is not treating patients she enjoys spending time with her husband, reading, trying to make a new dish and enjoying the outdoors.