St. Claire Regional Welcomes New Emergency Medicine Physician Ashley E. Brown, MD
Hospital news
|
Friday, August 25, 2017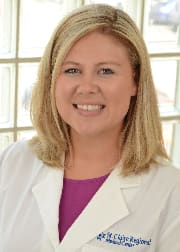 St. Claire Regional is proud to announce the addition of emergency medicine physician Ashley E. Brown, M.D., to our medical staff.
Brown earned her medical degree at the University of Kentucky College of Medicine and completed her residency at UK HealthCare's emergency medicine department.
"I absolutely fell in love with Morehead while I was an undergraduate student at Morehead State University and a medical student in the Rural Physician Leadership Program," says Brown. "And as a native of Eastern Kentucky, I have always had a passion for serving the medical needs in this area. I love being an emergency medicine physician because it allows me to think critically and take care of patients during some of the worst times of their lives."
When Brown is not treating patients she enjoys quilting, traveling, being outdoors, attending antique tractor shows and spending time with friends, family and her husband, Ryan.