St. Claire Family Medical Supply to Host Annual Go Pink Event
Community news
|
Monday, October 2, 2017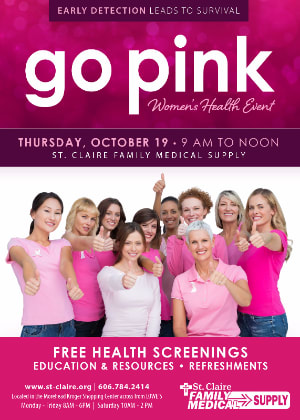 St. Claire Family Medical Supply will host their annual Go Pink Women's Health Event on Thursday, October 19 from 9 a.m. to noon, in support of National Breast Cancer Awareness Month. The first 100 women will receive a FREE Go Pink T-shirt.
Everyone is encouraged to come out for FREE health screenings, FREE refreshments and educational resources designed to promote breast health awareness and encourage early detection. Screenings will include ankle brachial index, blood pressure, bone density, cholesterol, DermaScan and glucose. (No appointments are necessary and fasting is not required.)
"Early detection can truly lead to survival," said Rebecca Montgomery, retail sales manager. "We are very happy to be able to host this event and offer free health screenings and resources to improve breast health education throughout our region."
St. Claire Family Medical Supply is located in the Kroger Shopping Center across from Lowes. For more information on the Go Pink event, click here or call 606.784.2414 or 877.784.2414.