Denise Hundley, MBA, RN, Named Director of Patient Care Experience
Hospital news
|
Tuesday, January 2, 2018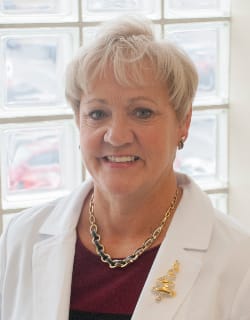 St. Claire HealthCare is proud to introduce Denise Hundley, MBA, RN, as our new Director of Patient Care Experience. Hundley graduated from the University of Kentucky College of Nursing with her BSN. She has her MBA from the University of Phoenix and is certified in women's health and obstetrics. Denise started her Nursing career at Central Baptist Hospital in Lexington, KY. She worked on the Women's Care floor for two years before moving into Labor and Delivery. Denise started as a staff nurse and continued to move up the career ladder as a charge nurse, Maternity Coordinator and then became the manager for one of the largest delivering facility in the state of Kentucky. The annual deliveries increased from 2,800 to 4,200 during her tenure as manager.
Hundley began her college education at Morehead State University on a partial basketball scholarship. While in college, she met and married her college sweetheart, Ted Hundley, who was a big man on campus; literally. Ted played basketball at MSU and was named OVC player of the year his junior and senior years. After graduation he played professional basketball for five years in Germany. Denise and Ted would return in the summers between seasons to Morehead where they worked with the local youth in Rowan and Bath counties and through the Morehead City Park system. They have held many fond memories of Morehead.
"I feel that I have been blessed to be brought full circle to work at St. Claire HealthCare. This is a community that my husband, Ted and I have always considered home and our life circumstances have given us this opportunity to return. I feel a calling to help meet the needs of the community through our patients and staff. I hope that I can make as much of a positive impact here as Morehead and the surrounding counties have made throughout my adult life." said Hundley.
Hundley has three exceptional sons who have shared their parents' love for basketball. They each achieved a great deal of success with basketball and each attended college on a basketball scholarship. She is blessed with three beautiful granddaughters that bring much joy and happiness into her life outside of work.