COVID-19 Testing is Available, Even if You Don't Have Symptoms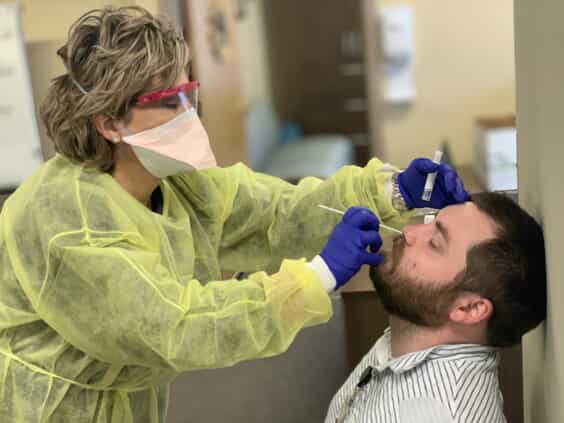 St. Claire HealthCare (SCH) is offering FREE drive-thru COVID-19 testing to anyone who wants to be tested, regardless of whether or not you may be experiencing symptoms of the coronavirus.
"Until this week, testing in our area had been limited to individuals with COVID-19 symptoms," said Will Melahn, SCH Chief Medical Officer. "St. Claire has been identified by Governor Andy Beshear as a regional testing site which provides us access to additional testing capacity and authorization to test anyone who wants to be tested."
Pre-screening and appointments are required. The screening can be completed online at www.st-claire.org/covidscreening or by calling 606.780.5227. After your screening, a member of the St. Claire team will contact you by phone to schedule your testing appointment.
"Appointments are available Monday – Friday, from 7 AM to 2 PM, but we realize it's difficult for many essential employees to schedule appointments during the day," said Melahn. "We want to make sure COVID-19 testing is available to anyone who wants it, at times convenient for them, so we're extending testing hours to 7 PM, Wednesday, May 6 through Friday, May 8."
To test whether or not you have COVID-19, a sample will be taken by swabbing deep inside your nose, which can be uncomfortable, some may even find the process painful. The sample will be placed in a sterile container and sent to an offsite lab for testing. While waiting on results, you will be advised to go home, self-isolate, monitor your symptoms (if symptoms exist), and seek medical care if symptoms worsen.
The drive-thru specimen collection will be conducted near St. Claire Regional Medical Center (outside the former Morehead Medical Specialists building at 234 Medical Circle). You don't have to be a current patient of St. Claire HealthCare to be tested at this location.
Testing is available at no cost to patients. You may be asked for your insurance information, but SCH will not bill you or your insurance company.
To learn more, call 606.780.5227 or visit www.st-claire.org/covidtesting.