St. Claire HealthCare Proudly Welcomes New Cardiologist - Ahmad Abuarquob, MD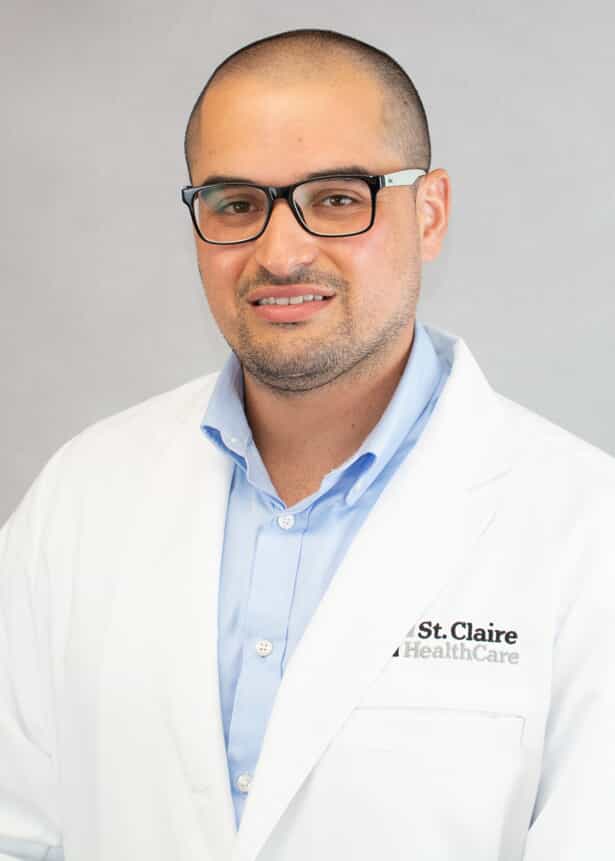 St. Claire HealthCare is proud to announce the addition of interventional cardiologist Ahmad Abuarquob, MD, to our medical staff.
"I come from a family of physicians. My dad is a physician and all five of my siblings pursued careers in the medical field," said Abuarquob. "With my family's support, I went into cardiology and I loved it. I quickly found working as a cardiologist allows me to fulfill my passion and personal mission of helping people, saving lives, and doing good for humanity."
Dr. Abuarquob earned his medical degree from the Jordan University of Science and Technology in Arramtha, Jordan, and completed his internal medicine residency at Jordan Hospital of Internal Medicine in Amman, Jordan. He completed a second three-year internal medicine residency at Saint Michael's Medical Center in Newark, New Jersey after relocating to the United States to advance his medical education. Dr. Abuarquob completed fellowships in cardiovascular disease and interventional cardiology at St. Joseph's Regional Medical Center in New Jersey, is a Catholic hospital, sharing a similar mission to St. Claire HealthCare. He says St. Claire's mission is what attracted him to join the St. Claire HealthCare team.
"I rely on God and his goodness to help me support and save my patients' lives," said Dr. Abuarquob. "I follow St. Claire's mission to proclaim God's goodness through a healing ministry to the people of Eastern Kentucky as I care of my patients."
While Dr. Abuarqoub always remains focused on his medical education, he also loves hiking and exploring new areas. He admits he is excited to be practicing in Morehead so he can take advantage of the hiking opportunities in the area.
Dr. Abuarqoub joins Ahmad Isbitan, MD; Mansha Kahloon, MD; and Cassie Stanley, APRN; in St. Claire HealthCare's cardiology practice at the St. Claire Medical Pavilion located at 245 Flemingsburg Road in Morehead.
If you have concerns about your cardiovascular health, including hypertension, irregular heartbeat, arrhythmia, or other cardiovascular issues, talk with your primary care physician about a referral to St. Claire HealthCare Cardiology.