St. Claire HealthCare Now Offering Drive-Thru COVID-19 Testing Without an Appointment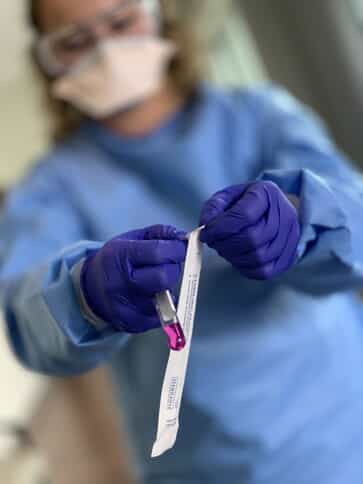 St. Claire HealthCare is excited to announce free drive-thru COVID-19 testing is now available without an appointment! Testing is open to everyone, regardless of whether or not you may be experiencing symptoms of the coronavirus.
"As the demand for COVID-19 testing continues to grow, we are committed to making testing even more accessible to our community," said Donald H. Lloyd, II SCH President/CEO. "We've removed the prescreening and appointment requirements to make the process as easy as possible for the residents of our service region."
Drive-thru specimen collection is being conducted just outside the St. Claire Medical Pavilion in Morehead Monday, Tuesday, Thursday, and Friday, from 7 AM to 2 PM, and Noon to 7 PM on Wednesdays. To access the drive-thru testing center, enter the St. Claire HealthCare campus from KY-32 (Flemingsburg Road) near McDonald's. Signs will guide you to the testing center beyond that point.
You will be able to view test results on your St. Claire HealthCare MyHealth patient portal as soon as they are available. You will also receive a courtesy call with your results. The turnaround time for test results is dependent on the testing volume at St. Claire HealthCare and across the state. SCH has staff working seven days a week to process incoming lab results so patients can be notified of their results as soon as possible.
"We can't stress enough how important it is that everyone continues to wear a face covering and practice social distancing at home, work, and school," Lloyd added. "It sounds so simple, but by following these recommendations, along with washing our hands often and disinfecting frequently touched surfaces, we can slow the spread of illness."
To learn more, call 606.780.5227 or visit www.st-claire.org/covidtesting.