St. Claire HealthCare Welcomes UK Markey Cancer Center Hematologist/Oncologist, Ravneet Thind, MD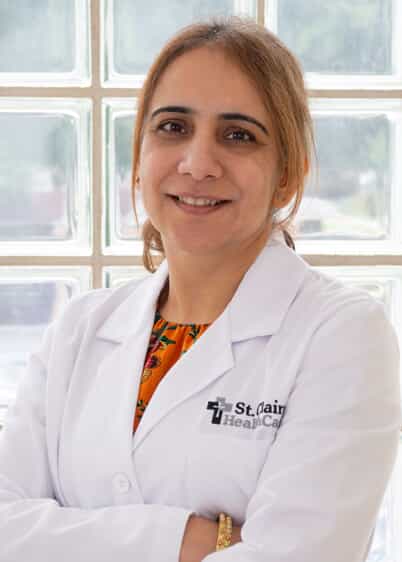 St. Claire HealthCare is proud to announce the addition of UK Markey Cancer Center, board certified internal medicine hematologist/oncologist, Ravneet Thind, MD, to our medical staff.
"I did not come from a family of doctors," says Dr. Thind. "The ability to integrate caring for those in need, a love of science, and the need for ongoing intellectual stimulation has always been important in my life. The idea of being a part of a profession focused on helping others, regardless of circumstance, has always been appealing to me. I chose oncology as my specialty as I have the opportunity to care for patients in their most vulnerable times. I have the privilege of establishing long-lasting relationships with my patients and their families, and that makes my job very unique, special, and fulfilling."
"Having moved to Kentucky about five years ago with my husband, who is also a physician and my daughter, we have absolutely fallen in love with this area," says Dr. Thind. "For the last five years, my focus has been lung, head, and neck cancers. The high incidence of lung cancer, obvious health disparities, and the high rate of mortality are some of the reasons that inspired me to work in this community. I am also passionate about medical education and mentorship of young medical students."
Dr. Thind completed her medical degree at Kasturba Medical College, Karnataka, India. She completed a residency in internal medicine, a Fellowship in hematology/oncology, and a Fellowship in neuro oncology at Henry Ford Hospital, Detroit, MI.
Through a unique affiliation with the renowned UK Markey Cancer Center, St. Claire HealthCare provides the same level of services, technology, and quality of care that's found in larger Kentucky healthcare systems. St. Claire HealthCare's oncology patients receive some of today's most advanced radiation and chemo therapies close to home. Dr. Thind joins St. Claire HealthCare oncologist Allen Lim, MD, and Brittany Blair, APRN, along with an amazing team of certified oncology staff.