St. Claire Regional Welcomes Newest Board Certified Emergency Medicine Physician – Robert A. Williams, M.D.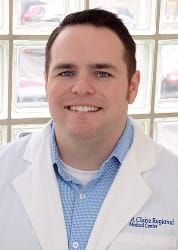 St. Claire Regional (SCR) is proud to announce the addition of Robert Williams, M.D., board-certified emergency medicine physician.
Specializing in rapid recognition and treatment of trauma and acute illness, Williams earned his medical degree at the University of Kentucky College of Medicine. He completed an emergency medicine residency at the University of Oklahoma Department of Emergency Medicine. "Ever since I was a young child, I have had a love for science and helping others," says Williams. "I decided to become a physician, so I would be able to continue to do both. And, in emergency medicine, I found my passion. It's a constant challenge, one you can never master which makes it a consistent force for me to be better and learn more." Williams and his wife, Whitney, have a wonderful son named Simon who will celebrate his third birthday in April. Williams says when he is not treating patients he enjoys spending time with his family, watching the UK Wildcats and playing in a tennis league. Please join us in welcoming Williams to SCR's specially trained team of emergency medicine providers who deliver 24-hour access critical care to patients requiring treatment from bumps and bruises to major trauma.