St. Claire Regional Opens Its First Retail Pharmacy
Community news
|
Tuesday, May 16, 2017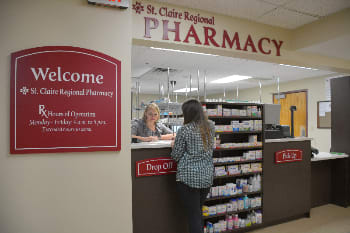 St. Claire Regional (SCR) is proud to announce that our first retail pharmacy is now open and serving patients, staff and our region. SCR's pharmacy offers both prescription and over-the-counter (OTC) medications at a low price guarantee which means, we will gladly match any competitor's price in Morehead!
SCR's new retail pharmacy also provides a concierge Meds-to Bed program to assist our patients and their families. The Meds-to-Beds is a convenient bedside service that delivers our patient's prescriptions to them prior to discharge. "One of SCR's pharmacy team's goals is to ensure our patients get the right medications and prescription education before they leave the hospital. In addition to this, using the Meds-to-Beds program keeps the patients from having to make an extra stop on their way home from the hospital," says Stephanie Justice, SCR Director of Pharmacy Services.
SCR's retail pharmacy is conveniently located on the first floor of the hospital near Cardiac Rehab and is open Monday through Friday from 9 a.m. to 5 p.m. with extended hours coming soon. You can depend on SCR's professional pharmacy staff to serve you with a smile. To transfer a prescription or for more information, simply call 606.780.5400 or stop by and visit us at our new location!