St. Claire Regional is NOT the Target of the "Shame, Shame on You" campaign
Hospital news
|
Friday, March 24, 2017
As many of you may have seen or heard, earlier today some individuals who were most likely hired by a labor union showed up on the corner of Second Street holding a "Shame, Shame on You" sign that also had St. Claire Regional Medical and Labor Dispute written on it. St. Claire Regional isn't the actual target of the "Shame On" campaign. Instead, it seems that a labor union is upset with a subcontractor hired by the contractor that we hired to construct our new medical pavilion.
We are very disappointed with the inaccurate use of St. Claire Regional's name in this union's dispute with a subcontractor of our medical pavilion contractor. St. Claire Regional is not involved in any labor dispute. We have also learned that many other organizations throughout Kentucky, Ohio and Indiana have been victims of this same "Shame On" campaign.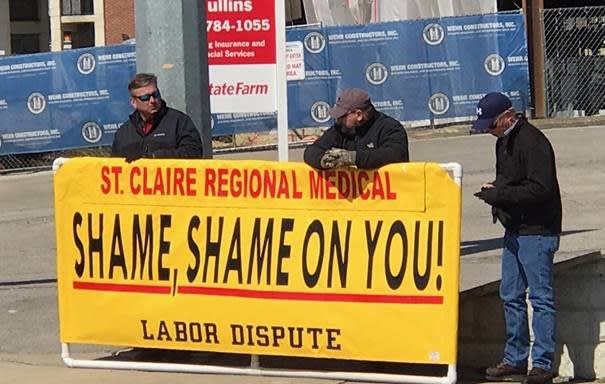 Photo provided by Brad Stacy at The Morehead News.