Fifth Annual Women's Health Conference a Success
Community news
|
Wednesday, May 3, 2017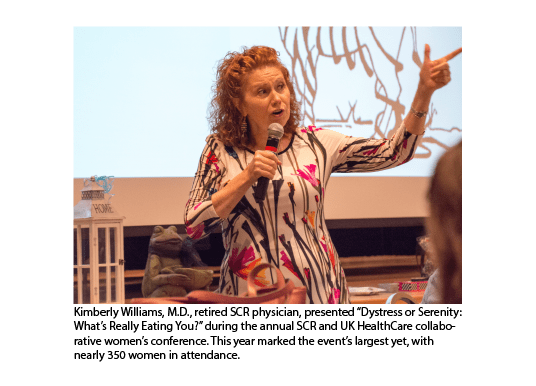 St. Claire Regional (SCR) and UK HealthCare's fifth annual One Night: About You women's health conference was its best yet! One Night: About You, held Thursday, April 27, at the Morehead Conference Center, attracted its largest audience yet, with nearly 350 women in attendance.
The evening kicked off with free health screenings and informational booths, followed by an inspirational keynote presentation by Kimberly Williams, M.D., retired SCR physician, titled "Dystress or Serenity: What's Really Eating You?" Williams talked about how cultivating gratitude reduces stress and increases optimism.
SCR and UK HealthCare providers presented on a variety of topics including osteoporosis; menopause; what's new in women's health; and the keys to a healthy heart. Attendees also had the opportunity to learn core exercises to help with pelvic health, posture and more.
More than $2,400 in door prizes were given away during the evening, including a variety of gift cards, gift baskets and a Michael Kors handbag. Donors included St. Claire Regional, UK HealthCare, PHI, Dillard's, Goody's, Reno's, iStyle, licensed massage therapist Melodie Hoff, All Seasons, Cracker Barrel, Caskey's Jewelry, Commonwealth Chiropractic, Made for the Journey Outfitters, Atkinson's Florist, Morehead Cinemas, McAllister Outfitters and Salon and Day Spa.
For more pictures of the event, visit our album on Facebook.
To learn about upcoming events, get health and wellness information and stay up-to-date with all things SCR, like us on Facebook, follow us on Twitter and visit our website at www.st-claire.org.